New York City has always been one of Sarah & I's very favorite cities to visit any time of year, but New York City at Christmas time is just straight up magical. When we started planning a mother-daughter trip earlier this year, without hesitation, we both said we wanted to go to NYC. We have both been several times before, but we just always leave wanting to do and see more. Our trip was mainly focused on eating good food, having good drinks, and enjoying the city in all of its holiday glory. We had such a blast and wanted to share a few of our favorite stops along the way in case you are planning a trip to the city anytime soon.
For our trip, we stayed at Hotel Belleclaire, which is an adorable boutique hotel in a great location on the Upper West Side.
Our first stop upon getting to NYC was to Freemans for brunch. It is the cutest little spot with delicious food and cocktails! It is hidden back in an alleyway that dead ends into the cutest front door.
Next, we did a little bit of wandering and walking around Lower Manhattan, and then stumbled upon The Wren for drinks. The Wren had been highly recommended and we were so happy to have just walked up to it.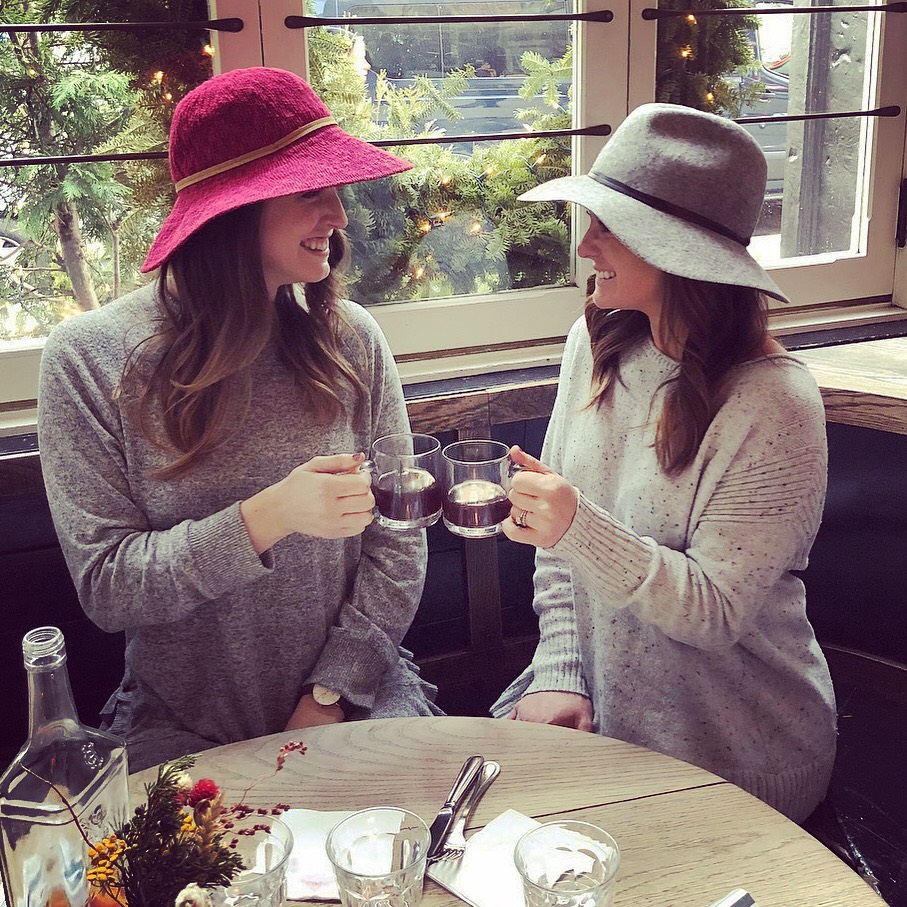 After we warmed up with their delicious mulled wine, we made our way to the Holiday Market at Union Square Park where we purchased a couple Christmas presents. One of the cutest purchases we made were Hazel Village dolls. If you have a little one or are shopping for one, go check out how absolutely precious the dolls are.
Once we finished up our shopping, we made our way to Maison Pickle. This was easily one of our favorite meals of the trip. They specialize in French Dip Sandwiches and cocktails. What else could you want, right? We all got one of the French Dips and they did not disappoint -- and they even were able to lettuce wrap mine to make it gluten free! The atmosphere was so cozy & the food was delicious, we highly recommend grabbing a bite here the next time you are in NYC.
The next day, we spent our entire morning and early afternoon at the 911 Memorial & Museum. This is a must-see for anyone who finds themselves in NYC. It was sobering and heartbreaking. The museum and memorial do such an excellent job of honoring those who lost their lives and informing on the events of that terrible day in our country's history. This was actually my second time to visit the museum and I still did not get through it all. You can spend an entire day in there, but emotionally we were only able to handle about 4 hours worth.
After we left the museum, we ate lunch at an adorable little restaurant called Friend of a Farmer, which is a farm to table restaurant that is housed in a Vermont farmhouse. It is a super cute brunch or lunch spot!
That night, we went to see The Rockettes at Radio City Music Hall because… it was Christmas and I almost think you have to go see them. After the show, we walked around Rockefeller Center and took pictures with the tree and watched the ice skaters, and of course, had to make a quick trip into Anthropologie before dinner. After we ate dinner, we braved the hour-long wait at Serendipity for some Frozen Hot Chocolate and Sundaes.
Our last full day in NYC we had a late breakfast and then spent several hours window shopping on 5th Avenue. It was unbelievably crowded, but so much fun! Saks Fifth Avenue's windows were worth braving the crowds alone. The theme was Snow White and the Seven Dwarfs in honor of its 80th anniversary. Here's a link to a video of the windows and here's a link to the light show.
After we had our fill of shopping, we headed over to The Plaza and somehow found ourselves having champagne at the The Champagne Bar. The experience of sitting in The Plaza, eating the snacks they provided, and the beautiful dessert, and having some bubbly was one that we truly loved. It is definitely not cheap, it is The Plaza after all, but we had such a blast.
After the Champagne Bar, we made our way to Tavern on the Green. We had all eaten their prior to the remodel in 2014, and while it has been quite awhile and we couldn't fully remember the old setup, but it was fun getting to come back and see all of the updates.
For after-dinner drinks, we went to Raines Law Room at The William, which has been recommended by several people. It is a faux-speakeasy that serves delicious cocktails. If you get there early enough, you are supposed to ring a bell to enter, but by the time we arrived there was a wait outside, however, it was still just as fun.
On our last day, our flight home left in the afternoon so we spent the morning exploring Central Park and doing one of the most touristy things, taking a pedicab. Next trip, if it is warmer, we'll rent bikes, but this time, it was pretty chilly and sitting under a blanket and letting someone else bike around sounded a little bit more enjoyable.
Hopefully if you are traveling to NYC soon this post will be of some help to you! We had such a blast with our moms in NYC & can't wait for our next trip! Where is your favorite place to go to on a girls' trip? Leave a comment below!